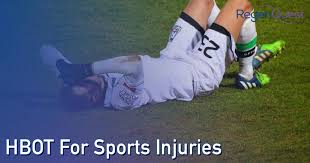 Why is Hyperbaric Oxygen Therapy beneficial for Athletes with sports related injuries?
HYPERBARIC OXYGEN THERAPY FOR ATHLETES
It doesn't matter if you're a high school soccer player, professional football quarterback, or Spartan race warrior on the weekends—suffering from an injury is common among athletes and can affect your everyday quality of life if not immediately treated.
Many athletes forget what it's like to feel "normal" after dealing with a slew of injuries. Consider how often football players suffer from concussions, soccer players tear their anterior cruciate ligaments (ACLs), swimmers suffer from swimmer's shoulder, and baseball players experience chronic shoulder or elbow pain. In order to recover, athletes have to take care of themselves both mentally and physically. 
Hyperbaric oxygen therapy (HBOT) is a powerful anti-inflammatory and wound-healing accelerator that could help athletes recover from sports-related injuries and stay healthy.
HYPERBARIC OXYGEN THERAPY FOR ATHLETES: A WAY TO HEAL CONCUSSIONS?
There are a growing number of professional athletes who are receiving HBOT to help them recover, specifically, from concussions. Joe Namath, who played for the New York Jets for the majority of his NFL career, suffered from multiple head injuries as an NFL quarterback. As a result, he dealt with memory loss, focus issues, and feelings of anxiousness and irritability before trying HBOT. Now, not only have his symptoms subsided, but he is also an advocate for HBOT and was recently a keynote speaker at the Long Island Head Injury Association's Celebrity Sports Forum this past March, which we participated in as a sponsor.
Bill Romanowski, a retired linebacker, also uses HBOT to help address the lasting results of at least 20 concussions that he suffered from during his 16 years in the NFL. Dr. Scott Sherr, HMS Medical Advisor and Head of Innovation and Protocol Development, treated Romanowski at a hyperbaric facility in California for his condition, showing very positive results.
OTHER SPORTS-RELATED REASONS ATHLETES TURN TO HYPERBARIC OXYGEN
HBOT works by dramatically decreasing inflammation, improving vascular flow, increasing stem cell release and activation, regenerating bone and cartilage damage, and decreasing scarring. In recent studies, HBOT also works in conjunction with platelet rich plasma and stem cell injections for even greater healing potential in other sports-related injuries besides concussions. 
In a recent review, HBOT also has been shown to work in conjunction with platelet rich plasma,  stem cell injections, and other treatments for even greater healing potential for all types of sports-related injuries, including concussions. 
For example, studies have shown that when HBOT is used "as an adjunctive therapy after primary repair of the injured ACL [it] is likely to increase success" of recovery. Athletes recuperating from muscle-stretch injuries could also obtain quicker results by using HBOT.
Back in 2004, ESPN reported that Terrell Owens, the now retired NFL wide receiver, incorporated HBOT into his recovery plan after breaking his leg and tearing a ligament in his ankle as a Philadelphia Eagle. However, Owens amazingly returned that season, to the surprise of many, to play in Super Bowl XXXIX.
A 2014 study also found that HBOT could positively influence the effectiveness of stem cell therapy—a treatment that professional athletes also use to recover from injuries. Another study from 2015 showed pairing HBOT and blood platelet injection therapy with exercise rehabilitation actually decreased healing time specifically for rugby players, getting them back on the field quicker.
ATHLETES ARE USING HYPEBARIC OXYGEN NOT JUST FOR INJURIES
Some athletes use HBOT to stay in optimum condition, maximize their performance, and prevent injuries. Olympic swimmer Michael Phelps is famous for his strict workout and recovery regiments, which are highlighted in a recent Under Armour ad that features him climbing into a hyperbaric oxygen chamber. Phelps used HBOT to help his body recover after tough workouts while training for the 2012 Summer Olympics in London.
Retired baseball player Rafael Soriano also used this treatment to relax after working out or playing in a game. He first heard about HBOT while he was a pitcher for the Atlanta Braves from 2007 to 2009, but he didn't give it a try until 2012, when fellow pitcher Jose Veras convinced him. Soriano reportedly said that since he began incorporating HBOT into his recovery routine, he didn't feel as exhausted while in training. "It gets the toxins out of your body and helps you with breathing, your blood," he said. "It helps."
NFL running back Rashad Jennings, who most recently played for the New York Giants, revealed some of his "out-of-the-ordinary" post-game habits, which includes sleeping in a hyperbaric oxygen chamber to help enhance his "body's natural healing process." As he explains, this practice is a bit "different" compared to other therapies, but he's "become accustomed" to it and continues to include it in his routine.
Content provided by Hyperbaric Medical Solutions 
Related Articles