At Oxygen Oasis, we focus on healing
We use hyperbaric oxygen therapy, a non-evasive treatment, to accelerate healing and aid in the recovery from a wide range of conditions – from sports injuries and wounds to autism and neuropathy—and more.
We provide our therapy in a warm and friendly spa-like setting that produces a calming atmosphere for the healing process. All therapy is administered under the supervision of a team of physicians and well-trained staff of certified hyperbaric technicians. We use state of the art medical grade hard chambers (both monoplace and multiplace), providing options that best fit the individual patient's needs.
Studies have shown that a relaxing and peaceful environment can be instrumental in the healing process. When you enter our center, you can feel the openness and brightness of the environment as well as the care and compassion of our experienced staff. Our entire approach to healing concentrates on the patient, the physical environment of the treatment, and the treatment results.
We accept insurance payments for insurance-covered conditions as well as direct payments from patients for all other medical conditions.
Flexibility to Meet Your Needs
Because Oxygen Oasis Hyperbaric Wellness Center is a free-standing facility, we can treat a broad spectrum of diagnoses, whether covered by traditional insurance or patient paid. These include Concussion/Mild Traumatic Brain Injury, Lyme, Multiple Sclerosis, Stroke, Autism, Radiation Injury from cancer treatments, Healthy Aging & Wellness, Sleep & Mental Health, Pre/Post Operative Surgery, Non-Healing Wounds, Long Haul Covid, and more. . .
Conditions We Treat
High Industry Standards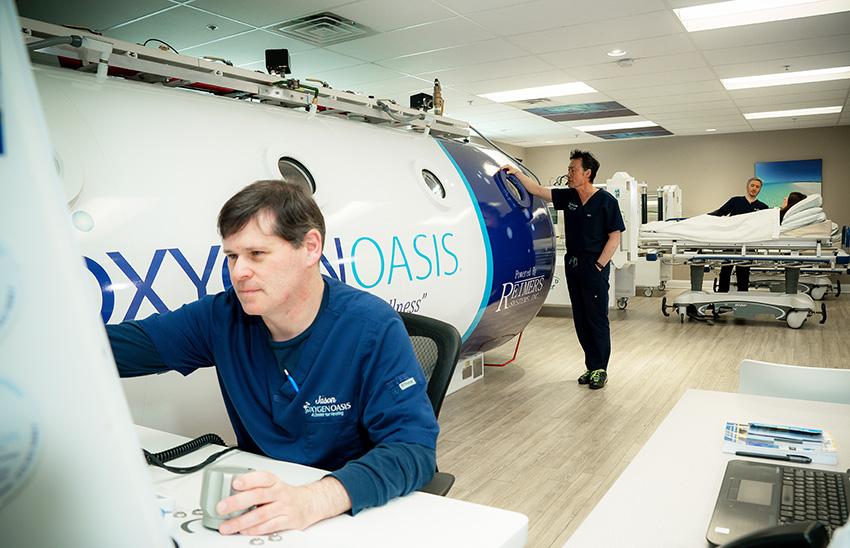 Oxygen Oasis has been granted accreditation from The Joint Commission, the premier health care quality improvement and accrediting body in the nation. This means that Oxygen Oasis has met all of the Joint Commission's high standards for quality and safety.
When hyperbaric oxygen therapy is recommended for treatment, the U.S. Food and Drug Administration advises patients to utilize a hospital or facility that has been inspected and is properly accredited by the Undersea Hyperbaric Medical Society (UHMS). The UHMS's hyperbaric facility accreditation (HFA) program is a complementary accrediting organization under The Joint Commission's cooperative agreement initiative.
Oxygen Oasis adheres to all hyperbaric industry standards in order to provide a safe and comfortable environment and experience for all patients undergoing hyperbaric therapy. All treatments are administered under the supervision of a team of physicians and Certified Hyperbaric Technicians.
You will find our state-of-the-art facility conveniently located in the heart of Bucks County, Pennsylvania. Our treatment center is on the first floor of a suburban building with easy access and adequate parking.
For quality care in your treatment journey, look no further than Oxygen Oasis to provide a soothing atmosphere that is conducive to your healing process.
American Health Front is a medical news program dedicated to providing viewers with information about the most current healthcare technologies available.