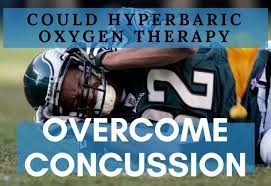 What are the Long-Term Effects of Concussions and how can Hyperbaric Oxygen Therapy (HBOT) Help?
LONG-TERM EFFECTS OF CONCUSSIONS
Every concussion is a traumatic brain injury. And even a mild concussion can lead to significant health challenges. Although some may notice an improvement in their condition immediately or after several months, others may continue to suffer lingering effects for much longer. If symptoms last more than three months, this is defined as post-concussion syndrome (PCS).
PCS SYMPTOMS OFTEN INCLUDE, BUT ARE NOT LIMITED TO:
Headaches or migraines
Personality changes
Depression
Sleep troubles
Memory issues
Sensitivity to light and/or sound
Difficulties focusing
Light-headed or dizziness
A WIDE RANGE OF SYMPTOMS COULD STILL BE PRESENT AFTER ONE YEAR.
According to a 2012 report titled "Long Term Consequences: Effects on Normal Development Profile after Concussion," shared by the U.S. National Library of Medicine, there are a variety of long-term effects of concussions or PCS that could still be impacting people a year after their initial injury.
"At one year post-injury, the most common symptoms appear to be a combination of the physical, the psychosocial, and the cognitive, with reports of headaches, dizziness, disturbances of senses, light and noise sensitivity, and various psychiatric symptoms, including depression, anxiety, coping issues, and psychosocial disability," the report states, adding that some can experience complications for even longer.
"Some adults continue to show motor deficits, functional deficits, and persistent depressive symptoms over one year post-injury," it adds.
SUCH SYMPTOMS CAN NEGATIVELY IMPACT A PERSON'S OVERALL WELLNESS.
The long-term effects of concussions or PCS can have significantly negative effect on the quality of life for many of those who suffer from it. Jobs are lost. Relationships are broken. Headaches and other symptoms can be debilitating. It can even be hard to get out of bed some days.  
THERE ARE TREATMENTS AVAILABLE.
One concussion treatment that could help those suffering the long-term effects of concussions or PCS is hyperbaric oxygen therapy (HBOT). Used both as a sole and complementary treatment, HBOT introduces pressurized oxygen into the bloodstream, which is then transported to cells in body tissues. From there, the oxygen is released, and aims to accelerate the reparation of damaged neurological tissue, which could improve cognitive and/or physical impairments.
HBOT may also address other symptoms associated with concussions and PCS. For instance, it has been argued that depression is a physical, not mental disorder, and possibly caused by inflammation, which HBOT can reduce. Consequently, using HBOT for PCS could improve or eliminate symptoms for those experiencing the variety of its long-term effects
Related Articles