Our Physicians
Hyperbaric oxygen therapy is offered as a referral and consultation service only. While patients are undergoing treatment, they remain under the care of their referring physician.
Medical Director
Benjamin Lam, D.O., F.A.C.O.S., F.A.C.S.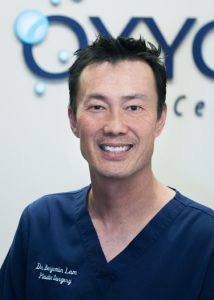 Dr. Benjamin Lam is the Medical Director for Oxygen Oasis Hyperbaric Wellness Center. He is certified in Hyperbaric Medicine and has 17 years of Advanced Wound Care experience. Dr. Lam received his medical degree from Des Moines University (formerly University of Osteopathic Medicine and Health Sciences) and completed a general surgery residency and plastic surgery fellowship at the Philadelphia College of Osteopathic Medicine. Double board certified in General Surgery as well as Plastic and Reconstructive Surgery, Dr. Lam is a fellow of the American College of Osteopathic Surgeons, American College of Plastic Surgeons as well as the American Academy of Cosmetic Surgery. 
Scott Rosenthal, D.O.
Dr. Rosenthal  is an Anesthesiologist specializing in Pain Management.  He received his medical degree
from Philadelphia College of Osteopathic Medicine, a fellow of Thomas Jefferson University Hospital, Pain Management.  Dr. Rosenthal is double board certified in Pain Management and Anesthesiology and is certified in Hyperbaric Medicine.  He treats all pain conditions including Migraine Headaches, RSD, Lyme, Fibromyalgia, Spinal Pain and Nerve Pain.
Michael Montico, MD, MAPS
Dr. Montico is a Medical Academy of Pediatric Specialty (MAPS) physician. After earning his M.D. degree from Wayne State University in 1998, Dr. Montico completed his residency in family medicine at Providence Hospital in 2001, and completed a fellowship in sports medicine at Providence Hospital in 2002.   He received his training in biomedicine and functional medicine through "DAN" conferences: 2007-2012 and MAPS 2013-present. Dr. Montico's son, Owen, has Autism and has experienced dramatic improvements following the biomedical approach since 2009.  Seeing the profound difference this approach had for his own son is what truly motivates Dr. Montico.  His passion is to partner with parents so they can use the same biomedical approach with their own children.  He uses a functional medicine approach in evaluating all of his patients.  Dr. Montico has additional training in caring for individuals with special needs, including Autism Spectrum Disorders (ASD).  Michael Montico CV.
Please click here for a video of  Dr. Montico discussing MAPS and the biomedical approach to treating children with Autism.